The PledgeMusic and PRS Foundation Emerging Artists Fund has announced its first set of artists to benefit from the partnership and today releases details of the second round of the scheme.
PRS Foundation (the UK's leading charitable funder of new music and talent development) and PledgeMusic (global direct-to-fan e-commerce platform) teamed up back in April 2018 to unveil the new PledgeMusic & PRS Foundation Emerging Artists Fund which offers support grants of up to £2,500 to financially support artists focusing on recordings, releases and/or touring.
In total, eight new artists and acts from across the UK have been selected in the first round of the programme to receive funding and launch their own PledgeMusic campaigns, including one of the North East's own (and Tipping Point supported) Cape Cub who headlined The Cluny 2 at this year's Evolution Emerging Festival in the Ouseburn.
PRS Foundation's Senior Grants and Programme Manager, Joe Frankland said, "Huge congratulations to the eight talented artists being supported in this first round of the Emerging Artists Fund. It's fantastic to be working with PledgeMusic on this innovative approach to supporting artists to get to that next step in their career. I'm looking forward to following each artists' campaign and the impact this support will have."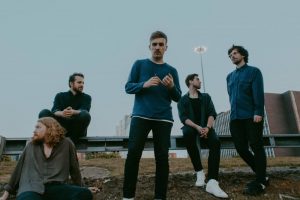 Opened on Monday 6th August, the deadline for the second round of the fund closes at 6.00pm on Friday 7th September.
Applicants will be asked to outline project costs and budgets at application stage, projecting the level of grant support needed from PRS Foundation as well as indicating a PledgeMusic Crowdfunding target. Artists selected for support will consult with PledgeMusic to agree a realistic fundraising target. Selected artists will work closely with PledgeMusic and will use best endeavours to achieve that target. Once the fundraising target is reached, PRS Foundation's grant of £2,500 will be triggered (with 80% paid up-front, and the balance amount paid upon completion of the artist's project and upon receipt of satisfactory project evaluation). A typical fundraising target of £2,500 would mean the Emerging Artists Fund has enabled £5,000 of project support.
Speaking of the of the programme to date, Luke Arthur of PledgeMusic said;
"Always gratifying to be part of a process that directly helps new and developing artists move ahead in their career. Together with PRS Foundation, PledgeMusic looks forward to working with the very worthy list of winners and building on the initiative in the next round of the Emerging Artists Fund."  
For more information on the fund and how to apply, follow this link.