Baltic's Apprentice of the Year: 2020 Winner
From Baltic Apprenticeships: The Apprentice of the Year competition is hands-down our favourite time of year. It's a time to recognise and reward excellence, and to really reflect on and showcase the exciting impact our apprentices are making every day in their workplace!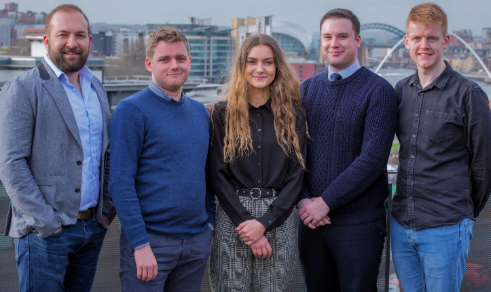 We received a number of nominations from employers and were overwhelmed by the positive stories being told within each submission! Our apprentices are the future of the tech industry, and are already blazing a trail as they train, applying their skills, knowledge and enthusiasm to every new project they come across.
This year's winner is Jade Whillis, part of the Digital Marketing team at Eduprise, a marketing consultancy firm specialising in communication for multi-academy trusts. Jade is on our Level 3 Digital Marketer programme and is doing some incredible work!
Jade and the team at Eduprise
Jade takes the lead on designing imagery and assets for 33 of Eduprise's client schools. She is responsible for monitoring each school's website SEO performance and social media accounts. Using the knowledge developed during her apprenticeship training, Jade regularly suggests ways to enhance and improve her clients' online presence.
Lauren, Jade's Learning Mentor at Baltic Apprenticeships was delighted to learn that Jade had won!
She said: "Jade has been a fantastic apprentice who has really shown her hard work and dedication to her course. Whenever a task has been set she will always complete it to the best of her ability and been able to achieve the targets and goals set. Her assessment plans and evidence has been exemplary which has proven to build a strong portfolio. I am sure Jade will go on to achieve great and wonderful things."
We caught up with Jade's team to hear more about what makes her Apprentice of the Year:
How has Jade developed over the course of her apprenticeship?
"In just nine months, Jade has become the driving force behind our digital marketing activities," said Callum Underwood, Account Manager at Eduprise.
On a daily basis, Jade uses her natural initiative and creativity – coupled with the skills that she has developed as part of her course – to produce marketing materials that have helped each school grow their social media presence and significantly improve communication with parents and their communities.
She has developed the confidence and organisational skills required to juggle long-term projects and ad-hoc demands from numerous clients. They expect tight deadlines and high standards to be met, which thanks to Jade, they invariably are.
Jade's skills have made her an integral part of our working processes, and she has become an invaluable member of our team dynamic. Her positivity, humour, quiet determination and unflappable demeanour mean she can be relied upon by her colleagues to boost morale as well as produce high-quality work.
What were your first impressions of Jade?
"When I first interviewed Jade, she presented herself as an understated, self-confident, young professional," said Callum.
"She'd decided that industry is where she would maximise her learning, and an apprenticeship was the best accompaniment to develop her digital marketing skill set. Jade has a natural foresight, and within 10 months her intuition has paid off – she's flourished beyond all expectations!"
What has been Jade's greatest achievement so far?
Five months into Jade's apprenticeship, the team at Eduprise decided to start producing social media analytics reports for their clients, accompanied by Jade's specialist comments on how to improve their social media profile.
"It was Jade who thought about and designed an automated means of expediting this process, fuelled by her ability to look beyond the way that things currently work to try to find a more optimal solution." said Callum.
Jade worked with Eduprise's Head of Communications to design a MailChimp workflow that integrated with Google Data Studio, allowing the team to provide key analytics to client schools. Jade not only helped to reduce the workflow requirements for her team, but also ensured that the process was as simple as possible for the school principals receiving the reports.
What impact has Jade had on the business as an apprentice?
"Jade has added a new dimension to Eduprise that empowers us to offer our clients a diverse and complete service."
Jade's insight into SEO and social media performance are two significant assets for Eduprise. She uses her expertise to analyse the data from complex reports to make recommendations on how to refine communication strategies.
"This adds substantial value to the Eduprise offering and provides our clients with measurable proof of progress. Contacts within our client schools have remarked on the value of Jade's insights and the usefulness of having her as part of our marketing team."
What do Jade's colleagues have to say?
"Jade is, first and foremost, an exceptional person. As well as being integral to our company culture, Jade has substantially increased the depth of our offering and enables us to provide our clients with a more comprehensive and beneficial service. Jade is a credit to herself and to Baltic, and – I believe – sets a new benchmark for digital marketing apprentices." – Dan Grey, Lead Content Writer.
"If you created a checklist of what you wanted from an apprentice, Jade would tick them all. She's got a thirst for knowledge and development, which she then applies to her daily role – allowing her to keep improving over the last 9 months I've worked with her. Most importantly, Jade has a fantastic attitude that shines through in everything she does. I can't wait to see her progress a year from now; she's on track to be a real force within the industry." – Danny Kershaw, Account Manager.
"Jade's ability to absorb new skills and turn potential into performance is outstanding. If you asked any member of the business who is a rising star, they'd say Jade's name without hesitation. I have no doubt that this truly talented and remarkable young lady will be leading the digital marketing industry in the next 10 years." – Callum Underwood, Account Manager.
"In the months I have worked here, Jade has been a fantastic and extremely helpful member of the Eduprise content team. As well as consistently producing excellent imagery and assets, often on short notice, Jade is very abreast of our social media responsibilities, quickly identifying issues and potential improvements to the way we deliver our product. Jade is a pleasure to work with and an essential part of the team." – Adam Barker-Wyatt, Content Writer.
Nominate your apprentice for our Apprentice of the Month Award!
At Baltic, we love to celebrate success! If your apprentice is going above and beyond, especially during the Coronavirus outbreak – why not nominate them for Apprentice of the Month?
To nominate your Baltic apprentice, send us a 200 word nomination to nominations@balticapprenticeships.com