World's First Socially Distanced Outdoor Arena Opens Tonight in Newcastle with Local Artist Sam Fender
We Make Events announces day of action to raise alarm for live events sector.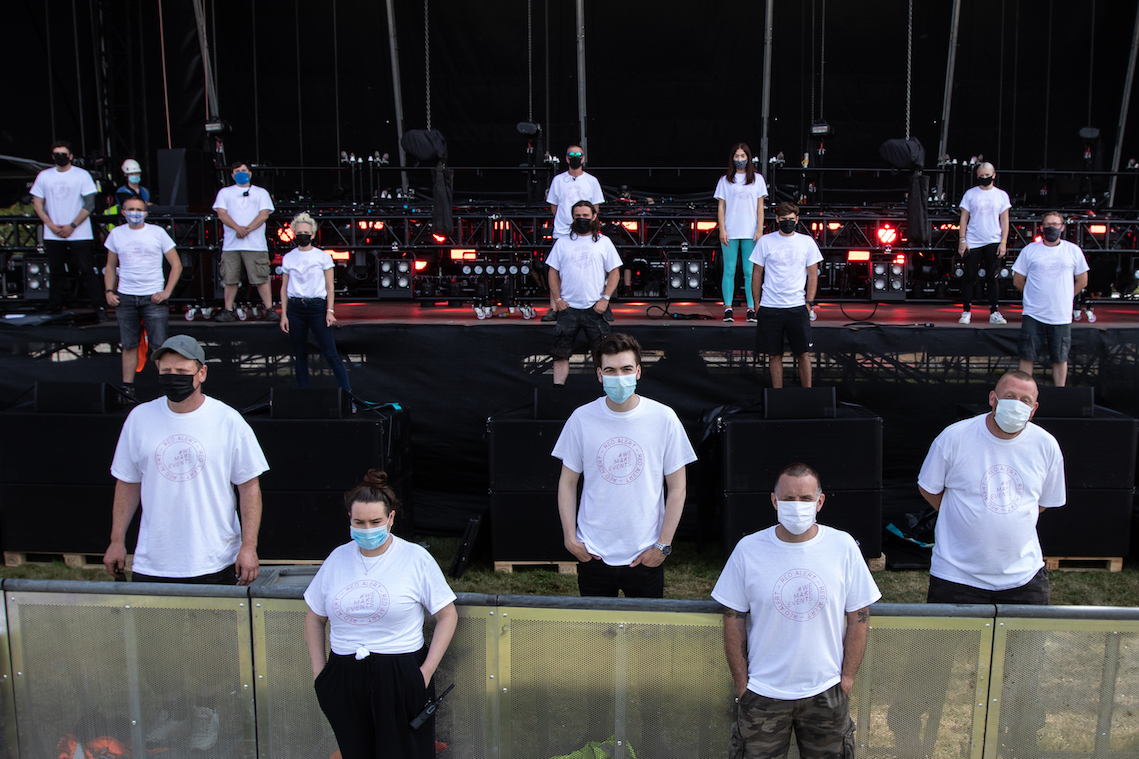 "The events and live music sector desperately needs more support if they're going to survive the COVID-19 pandemic." Steve Davis, SSD Concerts.
The organisers of the world's first socially distanced outdoor live music venue, Virgin Money Unity Arena, opens its full summer programme of events tonight.
The outdoor Virgin Money Unity Arena, taking place at Gosforth Park in Newcastle, will see North East star Sam Fender take to the stage tonight at a sold out opening show of two followed by a full programme of heavyweight acts throughout August and September.
Before the action starts in earnest, organiser Steve Davis took time out to have his say about the current plight of the sector and believes the UK's live events industry is in grave danger of survival unless more support is provided.
"We're proud that we've been able to host Virgin Money Unity Arena and delighted to have been able to employ and assemble such a talented crew and background team," said Steve.
#WeMakeEvents – RED ALERT is hosting a series of outdoor events in London and across the UK today (Tuesday 11 August), and is calling on the Government to "THROW US A LINE!"
A statement from PLASA says:
"The technology side of the industry is in desperate need of financial support from the government, otherwise it will not exist anymore and there will be no gigs, no festivals, no shows of any kind. Everything you love to go to simply will not be able to happen anymore.
"The #WeMakeEvents – Red Alert day of action is raising the alarm for the live events and entertainment sector. Thousands of event professionals including sound engineers, lighting designers, manufacturers, distributors, production companies, riggers, stage crew, musicians, venue staff, stage managers are joining forces across London and the UK to stand up for the live events sector.
"So please show your support for the amazing people behind the scenes and help us let the government know the entertainment technology industry needs its help, for all our sakes."
This day of action aims to raise awareness of the events sector which is worth £100billion and employs up to 1 million people.
The campaign now has the collaborative support of 17 trade bodies and several more production companies and manufacturers.
Together, they have progressed the campaign into the 'Red Alert' phase which will see planned activities across the UK.
The organisation has said that the UK's live events and entertainment sector is in critical condition.
It was the first to shut down in March and will be the last to reopen; the immediate cancellation of the busy Summer season affected 600,000+ jobs in outdoor events alone.
A survey last week reported that 10% of businesses are serving redundancy notices in July, with a further 15% in August. By the end of the year, 70% of industry businesses will have made redundancies.
Looking ahead, live events may not be able to return until March 2021 due to unviable social distancing rules and the long-term planning required for many arena tours, festivals, and stadium events.
The Virgin Money Unity Arena, at Newcastle Racecourse, will host 29 events on 26 days over the next month, with acts like Sam Fender, Supergrass, Jason Manford, Bill Bailey, Maximo Park, Alfie Boe and Ronan Keating taking to the stage.
Councillors hailed the shows as an important step in the recovery of the city's cultural sector, and commended organisers for going beyond required guidance to keep people safe and be a "good neighbour."
Cllr Ged Bell, Newcastle City Council's cabinet member for employment and culture, added: "Right now times are exceptionally tough for our vibrant community of world-class creative professionals in Newcastle, but we know that culture will play a key role in helping our city to heal from the effects of this pandemic.
"While we are doing all we can for them for Newcastle to rebuild itself as the leading cultural destination we all love we need independent festivals like this to support the recovery of the sector and provide our people with a diverse programme of events."