BREAKING NEWS: Government Backs Agent of Change for Venues
The British government is to write the 'agent of change' principle into planning law, in an announcement hailed by UK Music as a "seismic victory" for grassroots venues.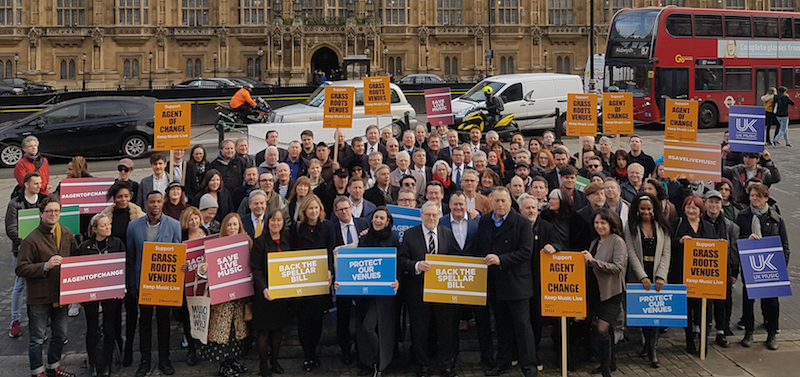 Housing secretary Sajid Javid announced yesterday that the National Planning Framework with which local authorities are legally bound to comply, will be amended to include "detailed reference" to agent of change, making housing developers building new homes near UK venues responsible for addressing potential noise issues for example.
Javid said: "Music venues play a vital role in our communities, bringing people together and contributing to the local economy and supporting the country's grass roots music culture. I have always thought it unfair that the burden is on long-standing music venues to solve noise issues when property developers choose to build nearby".
Javid continued: "That's why I consulted on this in February last year as part of the Housing White Paper. I am pleased to finally have an opportunity to right this wrong and also give more peace of mind to new residents moving into local properties".
The move follows significant industry campaigning on the issue from trade bodies including UK Music, Music Venues Trust and the Musicians Union. Last week, Labour MP and former Government minister John Spellar tabled a proposed new law in the House of Commons, which would mean developers would have to take account of the impact of any new scheme on pre-existing businesses before going ahead with their plans. The Spellar Bill has now been put on hold in light of the Government's announcements.
UK Music CEO Michael Dugher said: "This is a seismic victory for all those who fought so hard to safeguard the future of music venues across the UK – from grassroots community activists to Britain's global music stars who have spent years calling for Agent of Change and recently supported the Spellar Bill".
Dugher added: "It's great that ministers have listened and are prepared to work with UK Music and others from the industry, including the Music Venue Trust, to make sure grassroots venues get the support and protections they need".
Various MPs, artists and industry execs convened last Wednesday outside of Parliament to back the changes, so the scramble to take credit for the win is well underway, both across industry and the political community. But we should not let that detract from celebrating a hugely positive common sense move from the Government.