Charity Focus: Mortal Fools
Continuing on with our monthly Charity Focus, we are pleased to welcome Rachel Horton from Mortal Fools, who will tell us a bit about what the charity does and what they need from the digital and tech community!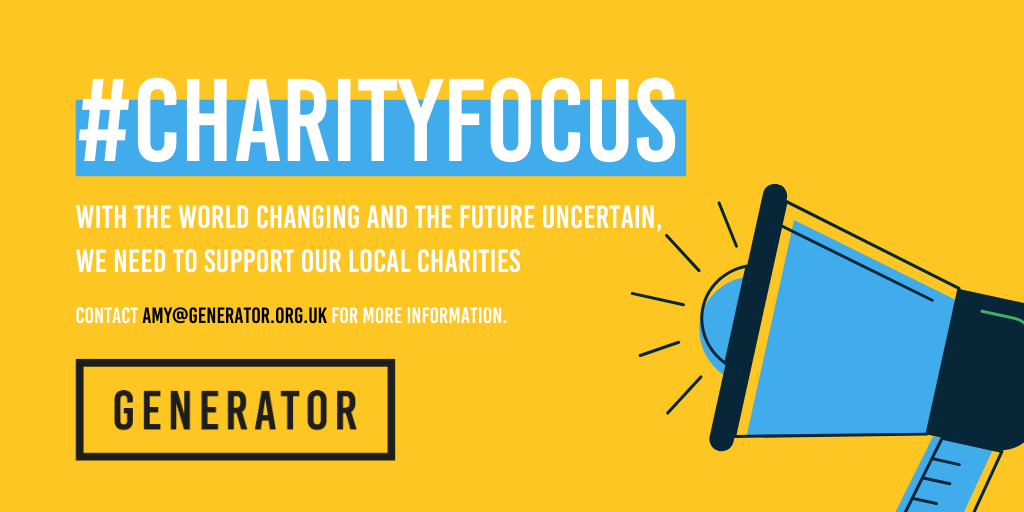 What's your background and how did you become involved with Mortal Fools?
Digital hellos! I'm Rachel 'Horts' Horton and I'm part of Mortal Fools – a multi-award-winning theatre, drama and creative learning charity based in Prudhoe, Northumberland working across the North of England.
At Mortal Fools I am their Marketing, Audience Development and Business Development Lead. I first got involved with Mortal Fools three years ago supporting the marketing for a theatre show and it just felt like being apart of something really important and special that was having an impact and even changing lives. I was determined to keep working with them and championing their work and here I am, years later!
Could you tell us a little about Mortal Fools and the work that you do?
Mortal Fools exists to facilitate positive connections between people – something never more needed than in these fractious and challenging times we are living in.
We started out as a small youth theatre group, running one-off week-long projects from a village hall in 2012. Today, we are known regionally and Nationally for creating compelling, dynamic and high-quality theatre by professional artists working as co-creators with young people and communities.
Our work is collaborative and contemporary. Our theatre productions explore contemporary concerns and the realities of the world we're living in right now – inviting positive change. We're passionate about the arts and the power of the arts to change and enrich lives, to share and show our potential as human beings and to transform society.
Another strand of our work is CONNECT; a training and professional development programme for organisations, teams, and individuals. CONNECT offers dynamic and effective approaches to developing leadership practice, engaging communication, formal presentation skills, team dynamics, digital facilitation and emotional resilience and well-being. Income earned from CONNECT goes directly back into our work with young people and community projects.
Are there any projects that you have done/are working on that deserve a special mention?
Prior to the UK lockdown, Mortal Fools were busy with programmes of activities with children and young people, artists and businesses.
We'd just wrapped a tour of Melva – a touring theatre package for schools that tells the story of a 10-year-old girl whose struggles with anxiety, or 'worrits' as she knows them, keep her from leaving the house.
We were redeveloping a show called Hugging Dogs with a cast of young people with special educational needs and disabilities (SEND), due to go on tour in June/July; working with young people in Alnwick on their Arts Awards, and were just mere days away from going on a Northern tour with Relentless, our newest theatre show from our trailblazing Ensemble Young Company, exploring the pressure-filled and demand fuelled world young people are living in. We were running weekly Youth Theatre groups, applying for new project funding and gearing up for professional development training with adults, teachers and businesses. It was an extremely busy time!
In line with government advice, we halted all face-to-face activities from Friday 20th March. It was especially hard on our young people, who lost their school routines and had exams they'd been working towards for months cancelled overnight. It was also extremely tough on our team of 25 associate freelance practitioners that looked likely to lose crucial income streams.
Our main success therefore has been supporting our young people, freelancers and wider network in new ways, moving from survival mode to reinvention. We realised our immediate purpose was to reimagine what "staying connected" could look like as Mortal Fools and supporting others in our network through that process.
Mortal Fools' Digital Ambassadors – we have put young people front and centre of our social media and digital content generation, supporting their skills development and enabling their young people to reach out to other young people during this challenging time. From "addressing the Nation" once a week, to plotting and devising content, to publishing reviews of online shows and activities, sharing Spotify playlists and participating in Young People's Panel Discussions, exploring how this situation is affecting them – we have been giving young people a voice and a purpose.
The Coronavirus Time Capsule Project – a week-by-week creative filmed response to the pandemic, through the eyes of young people, supported by Mortal Fools practitioners. The project was created by Company Three, based in London, and it unites young people's groups from all over the world as a way of recording teenagers' experiences during the global coronavirus pandemic and shutdown. Mortal Fools has been a key partner in the project development and had two groups participating. You can see our outputs on our YouTube channel.
We are now busily working on an Audio Project – performative audio to listen to when out or staying at home working with our young people and professional artists to develop it. It is set to launch late Aug/early September. So watch this space!
What do you feel are Mortal Fool's strengths?
From the above you can see that our biggest strengths are our ambitious nature, tenacity, commitment to our people and community focus and ability to keep being creative!
Ensemble Young Company Member, Ben Grainger (18): "Working with Mortal Fools during lockdown has reiterated just how strongly Mortal Fools value the young people that they work with – we have been offered so many opportunities despite the challenging times we're in. They have helped me stay creative and engaged at a time when I really needed it."
Where do you think Mortal Fools needs help with their digital services?
Mortal Fools needs help and support in the following areas:
CRM system – Support building and implementing a CRM system – like many organisations we have a large network of stakeholders, beneficiaries, project partners, audiences etc. We are looking to bring this together into a system that will enable us to manage relationships more effectively, automate our project comms, collect data whilst supporting our fundraising, marketing and evaluation strategies.
Digital Commission support – We will be (and have been) applying for digitally focused commissions – this is a new area for us and increasingly competitive due to the "go digital" ethos of the creative sector. We are keen to link up with orgs/individuals who wouldn't mind being a critical friend or a contact we can reach out for support when we need it. Things we may need support in is around effective distribution of digital/audio content, accessibility of digital/audio content etc.
Digital project support – as an ambitious theatre company, we are keen to explore how tech and digital interventions could be incorporated into our theatre making. We have experience with outdoor theatre and keen to consider how VR and projection mapping could integrate into our work.
Networking – We are keen to spend more time networking in the digital sector informally and socially – it is not a space we regularly in habit and we are keen to build relationships. If you have an event or 'happening' we'd love to come to find out more about you or if you just want to reach out, we are here and would love to hear from you!
Website: www.mortalfools.org.uk
Facebook, Instagram, LinkedIn, Twitter & YouTube: @mortalfoolsuk
Who is the main contact? Kiz Crosbie is Mortal Fools CEO/Artistic Director and is the company lead. But for this, you can get in touch directly with me – Rachel.Horton@mortalfools.org.uk and I'd be delighted to hear from you!