Generator Announces Cutting Edge Line Up For New Festival Generator Live
Generator are extremely excited to announce the first wave of artists for our newly launched multi-venue festival Generator Live, taking place this summer on Saturday 25th June 2022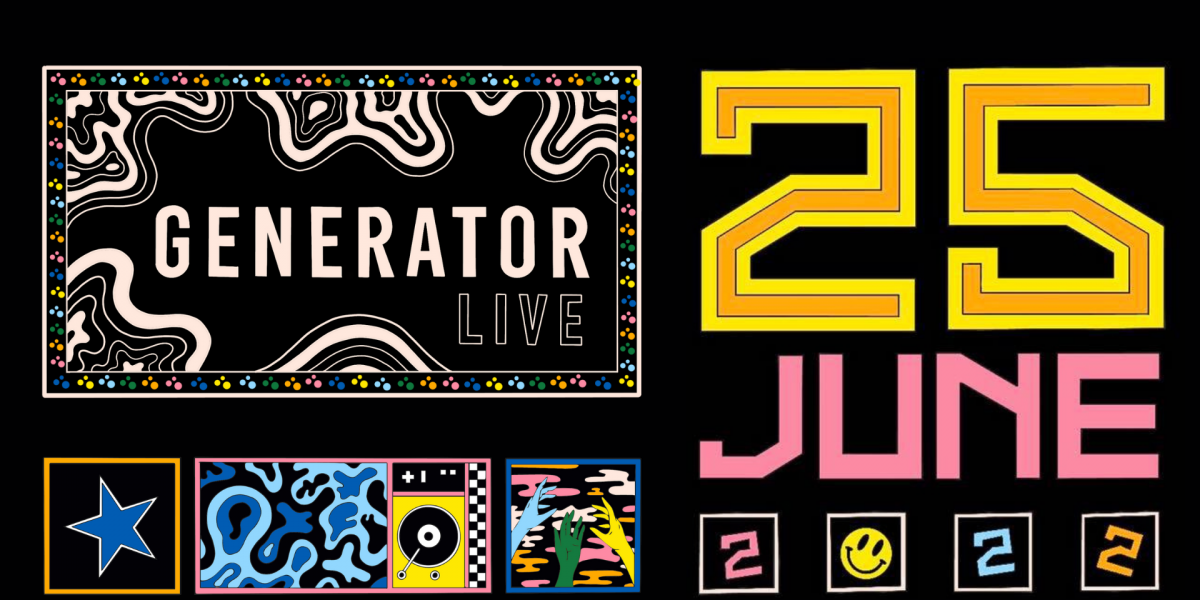 Generator are extremely excited to announce the first wave of artists for our newly launched multi-venue festival Generator Live, taking place this summer on Saturday 25th June 2022
Generator Live's main stage will host an unmissable line up at one of the North East's most iconic venues; Boiler Shop – with Newcastle-born garage rocker Du Blonde topping the bill; and they are in great company, performing alongside the North East's most exciting up and coming artists including ethereal tenacious grrrl band Venus Grrrls, pop-punk powerhouse bigfatbig, experimental hip-hop act John Dole, Geordie-Caribbean rapper Sagaboi, and Newcastle revivalists Lovely Assistant, with more to be announced.  
Du Blonde commented: "I'm thrilled to not only be playing my hometown, but also to be doing so for an organisation that champions and supports local acts. Newcastle has a thriving music scene and I'm stoked to have the opportunity to play live again in a city I love so much."    
This is an event for both local music lovers and the wider community to celebrate the thriving creative subcultures here in the North East. Generator Live will fuse together some of the best talent the region has to offer at esteemed cultural landmark Boiler Shop. The official festival afterparty will continue to showcase exciting homegrown talent, with a programme of North East DJs and producers taking the reins at Newcastle's longest running underground club World Headquarters.  
As part of Generator's drive to open doors to new audiences and music genres, Generator Live will reflect the diversity of the North East's thriving and eclectic scene, in keeping with our Key Change Pledge. Showcasing the regions' talent both on stage and behind the scenes, with local production crew, independent promoters and grassroots venues cohesively working together in supporting the festival and its emerging artists. 
It's been two years since Generator's last festival & conference, with the live industry facing unforeseen challenges during that time. However, the pandemic also created space to reflect. In response to these unprecedented events, Generator Live promises to satisfy the huge appetite for live music, giving a platform to the immense talent that has been flourishing across the region and reconnecting our artists and audiences. 
To support the day/night music programme on the 25th June, ground-breaking fringe activity will span the cultural quarter of the Ouseburn Valley and Newcastle's city centre in the days prior. This activity will be curated by innovative North East-based promoters, creatives, and collectives. 
With tickets on sale now for just £12, Generator Live promises to reignite excitement for the North East's dynamic & developing music scene.  
Reacting to today's line up announcement, Generator's patron Tom Robinson commented: "The North East is such a crucible of fresh, original music – and for two decades Generator's festivals have unerringly showcased each new generation of talent as it arrived. I can't wait to hear what surprises the region has in store for us in 2022…" 
Generator's Festival Lead Helen Walkinshaw commented, "Generator Live will be our overdue and revived festival, celebrating the North East industry and showcasing a cross genre programme of rising talent. We're excited to share our plans for Generator Live, which have been shaped in response to audience, artist and industry feedback. Our aims remain the same; Generator Live Festival and Conference will support and connect the North East music community with the wider industry to create more career pathways and fill the void of showcases for exclusively North East emerging talent through our platforms."
Boiler Shop's Live Events manager Chiara Tomasoni said, "We are delighted to be working in collaboration with Generator on their Generator Live Festival. We share their belief in the strength of the North East music scene and in giving incredible homegrown talent as much support as possible. 
The team at Generator are creative, inspirational and totally focused on empowering and lifting North East creatives – and we can't wait to help them do just that."