NE HOT SEAT: ERNIE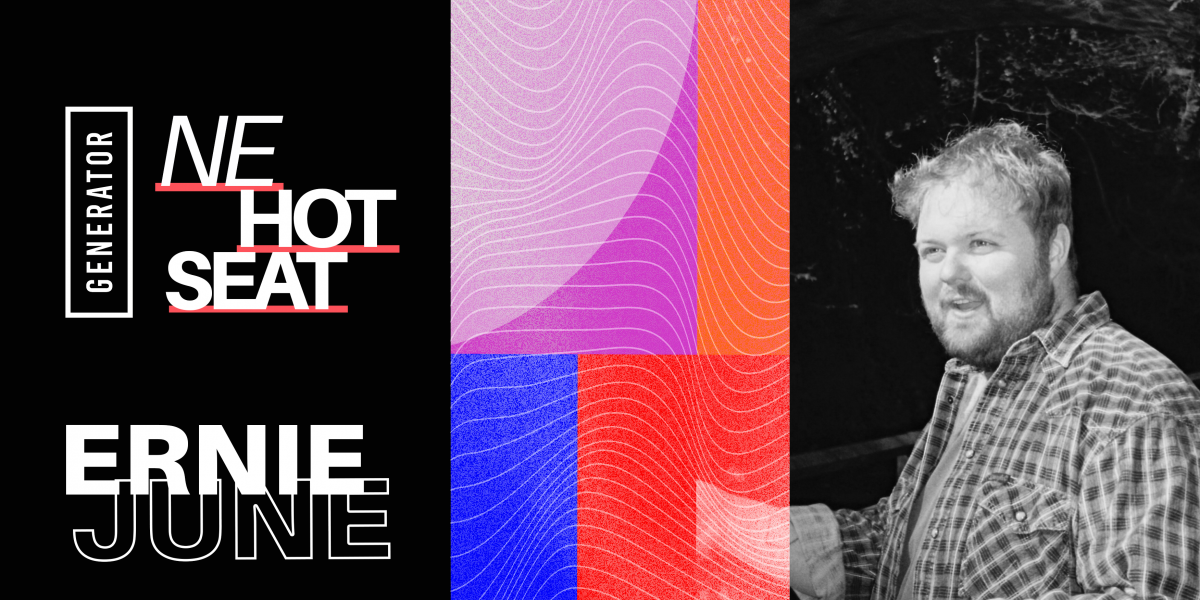 We're back with our artist insight feature 'NE Hot Seat' – where we sit down with some of the North East's brightest talent on a monthly basis, shine a spotlight on their latest work and find out what they have planned next.
We are pleased to present our June NE Hot Seat: part-time chef, full-time singer songwriter and Generator Live artist, Ernie. Hailing from the fringes of Northumberland, he serves up his own brand of alternative rock, stirring that fuzzy, nostalgic feeling in with layers of guitars and synth, sprinkled with some pop sensibilities for good measure. Ernie touches on emotional themes from adolescence, family and relationship to feeling like the "odd one out" in a small Northern town.
---
Firstly 

congratulations

 on your debut single! Can you tell us about your new track pink headaches?

It was inspired by a trip back to my hometown as a visitor and the complex mixture of feelings that came in tow. I'd moved back in with my mam for a few months, and I was out on a run one day to shake off a hangover. I was literally running through the scenes of my childhood, recalling this huge batch of memories attached to every street, every park bench, every football pitch. Places that once felt like home to me now filled me with a weird mix of nostalgia, fondness, sadness, and anxiety. 'Pink Headaches' was my response to all of these weird feelings and memories coming to the surface with every passing lamppost.
Can you tell us a bit about your new project?
The project started in 2021 when I took all of my lockdown demos to Josh Ingledew (Blank Studios) with the intention of turning them into a kind of lo-fi bedroom pop album that I would just keep to myself. Once we started looking at the tunes properly and passing ideas back and forth, we realised that the songs had lots of potential and deserved to see the light of day, so we scrapped everything we'd recorded at his house and started the whole thing again in a proper studio. Two years on, my first single just landed and we've just started bringing the tunes to life in a live setting with a full band. Exciting times!
Incredible achievement to be playing St James' Park supporting Sam Fender! Any other live shows coming up in 2023? 
SJP was truly a dream come true, we had such an amazing time! Next up for us is Boardmasters festival in Cornwall which is going to be great, then we have Generator Live at the Boiler Shop which we're super excited for, there's lots of names on that lineup that we love, we're dead excited! There'll be more to announce soon, and a headline show at some point later in the year too…
What inspires you the most when it comes to writing your music?
My song lyrics are mostly just diary entries, so I'd say the biggest inspiration for my songs are my own lived experiences. All of my stuff is very introspective, looking back at stuff from childhood and my early twenties, it's really therapeutic rummaging through old memories and getting things down on paper.
If you could collaborate with any artist of your choice, who would it be and why?
I would love to work with Aaron Dessner, he plays guitar in The National (one of my favourite bands) but is probably best known as a record producer. He's responsible for some of my all time favourite records, he makes everything sound so rich and colourful and is part of this community of amazing musicians who he drafts in to collaborate and experiment with when he's making something new. It would be a dream come true making a record with him.
Have a listen to the official NE Hot Seat spotify playlist to discover new local artists: