NE HOT SEAT: MELBA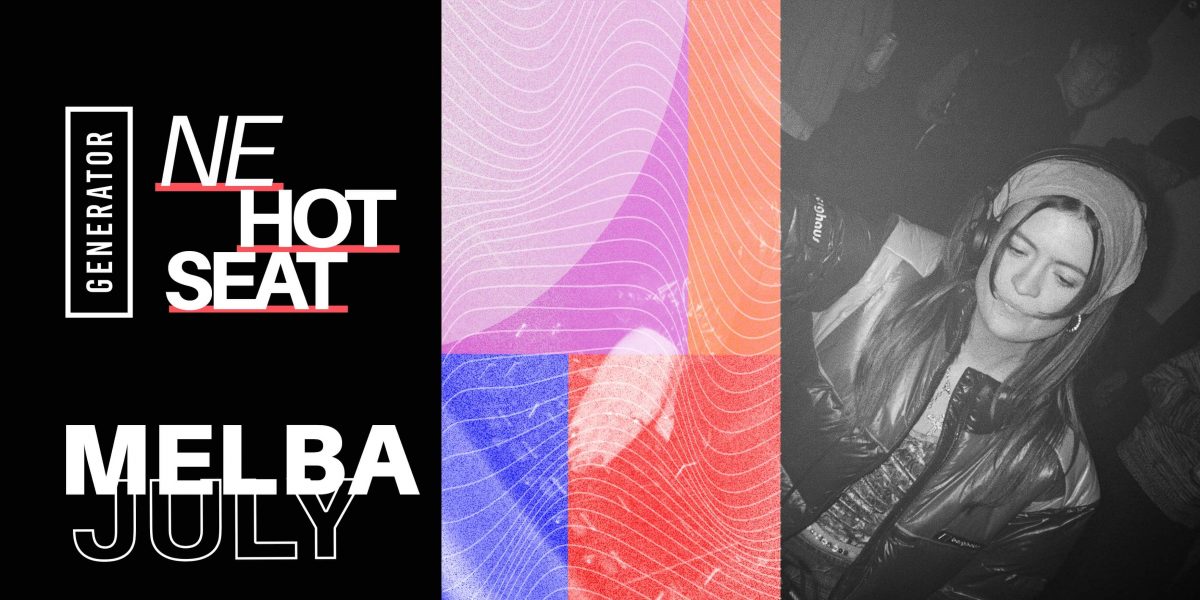 We're back with our artist insight feature 'NE Hot Seat' – where we sit down with some of the North East's brightest talent on a monthly basis, shine a spotlight on their latest work and find out what they have planned next.
We are excited to present our July NE Hot Seat: Newcastle based DJ, producer and bass music enthusiast making waves in the local scene, Melba.
---
Welcome to NE HOT SEAT Melba, thanks for having a chat to us! Can you refresh our memories about your journey in the music industry so far?
Hey! Thank you for having me. I have been going out clubbing to underground clubs, listening to electronic music since I was 17 and trying to go out and see as many people as I could! I only realised the other day in an old group chat that my nickname is still 'interested in an event', which I found quite funny. Over the years I have got to know some of the underground promoters and DJs in Newcastle and in Manchester (after living there for university). But it never really occurred to me that I could also get into this industry being a woman.
I just want to learn things. I find so many things so cool and interesting, so I thought I'll try and learn how to mix (and now currently trying to learn to mix on vinyl too)! My boyfriend had a controller at home, so I spent every evening for weeks trying to teach myself. It was after going to Dekmantel last year, and feeling so inspired, that I put my first mix out just with tunes I enjoyed regardless of genre or whatever. A few months after that I was really lucky to gain a couple of sets at some local clubs, including a Keep Hush set. Keep Hush was really cool, as it was an all-female line up and it was one of the first times I had really seen an event that wasn't just branded as a 'female lineup'.
What first got you into music production?
I'm super impulsive, and like I say, I just want to learn as much as I can. One day I felt really inspired by a track and was thinking about how the producer might have made it, I thought maybe I could do it too. To be honest, I think if you are lucky enough to have support and certain resources, production and DJing can be a lot more accessible. However, for women & other marginalised groups who aren't being represented in music as much as white cis-men, it can be really tricky to see yourself within those roles. With only 3% of producers being women obviously there is something very wrong. I just want to learn, and if I can put the time in, I would like to contribute to reducing this imbalance in a positive way. I downloaded Ableton's free trial and watched some tutorials, I had already found some really sick sample packs on SoundCloud so bought them and tried to follow a YouTube tutorial on how to make a tune. I followed it a little but then got the hang of it and made it my own. It was just a sample track tune, so I didn't necessarily make the original sounds in it, but it was just good practice. I would advise anyone that wants to get in production to start off that way, especially if you don't have a musical background. It gets you to think about layers and arrangement, which to me are some of the most fundamental elements of a good tune.
Being from a working-class background, working in music or arts wasn't really pushed. Having said that, my family always just encouraged me to try my best and be happy. I would draw a lot when I was younger, I could never really afford any proper equipment but really loved trying to be creative. I feel like when that part of my brain is active, I'm really happy. So, I might as well try and broaden the ways I can be fully creative, whether through graphics, 3D, mixing or production.
Who have been your main influences when it comes to DJing and production?
People like LCY, Sherelle, AK Sports, Bianca Oblivion, Uniique, EVA808, Miss Jay, DJ Sliink I find really inspiring with their DJing but also their production. My production is pretty bass heavy in terms of how I mix/produce it, I feel like these people also have flavours of that too. They know how to bring a vibe. Also, Mantra, Marcus Intalex, and more recently Tim Reaper for their approach to programming drums. And of course, DJ Flight and DJ Storm for being incredible DJs.
You recently released your first track on Leeds based label 'Gimme A Break Records'. Have you got any more music lined up this year?
Yeah, I'm so excited! My next release will be featuring a track from myself, and one from Nectax, forthcoming on Newcastle based label Stereo 45 later in July. Really excited about this one, again it's something different from myself but can't wait for people to hear it, the tunes complement each other really well too. I'm working on a few other bits, including a collab, but those are still in the works.
You've been attending many club nights across Newcastle for years, what's special about Newcastle compared to other cities?
The community here is so good. I think Geordies have so much pride in where they are from and wear it on their sleeves. I'm so proud of Newcastle, and I think other people feel the same, so everyone is ready to big each other up. But we're so far away from other big cities, emphasised by the north south divide – jobs being less paid, less opportunities, less stable infrastructure, higher mortality rates, less investment, more working class, the list goes on. It's not always easy to make scenes here but they're built up by people, not from big business like what you might find in London, people create little underground pockets of scenes here, which is really special.
As an integral part of Newcastle's pool of talent in underground music, would you like to give a shoutout to any artists, DJs and collectives in the North East?
So many people!! Stereo 45 (Nectax, Sketchy Rida, Renok9000), Music Sphere, Ghetec by the lovely Boo, Avant Sector, Chain Reaction, Big Fat Rave, Bend and Shake, Life Glug, Method Radio, and finally LADS at Cobalt and all the lovely women and non-binary people who go along to learn something new – honestly such an amazing group of people! All the very talented DJs here especially women and marginalised genders, Intra, Neenzy, Becky Woodcock, E-kitty, Sazzle, Jacklyn, Psfya, Niamh Ingram. Also, of course Skantia, Kastro, Macca, Ben Prophet, 2che, Product Toss, Schmuck, Spectra. And Lively Up for providing some of the best club events growing up!
Have a listen to Melba here: