NE HOT SEAT: VENUS GRRRLS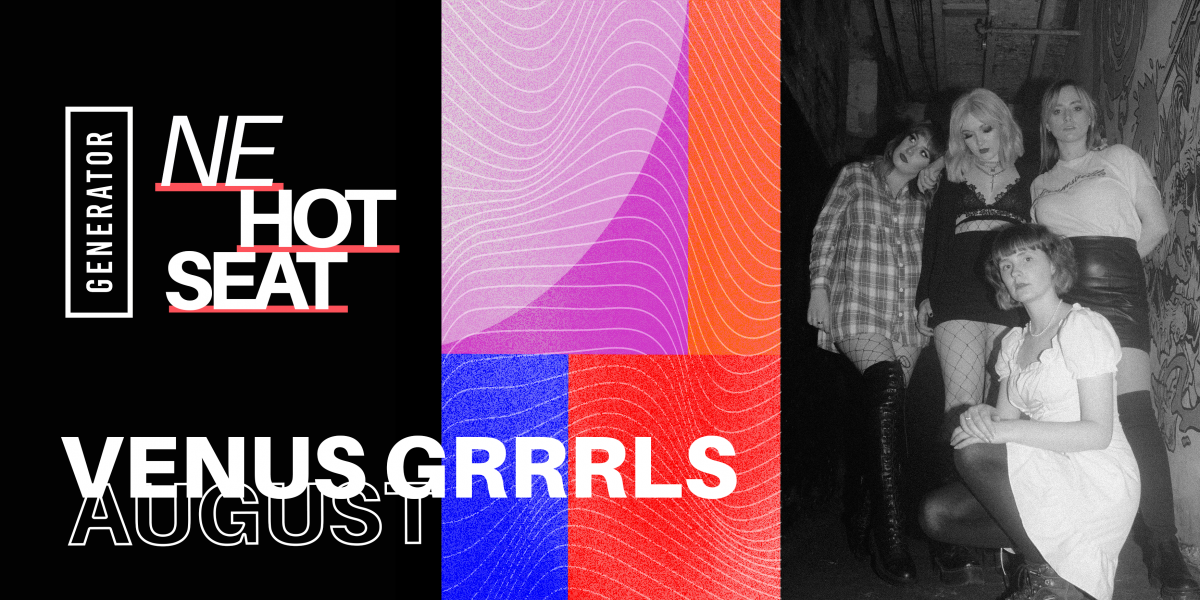 We're back with our artist insight feature 'NE Hot Seat' – where we sit down with some of the North East's brightest talent on a monthly basis, shine a spotlight on their latest work and find out what they have planned next.
We can't wait to present this months NE Hot Seat: all girl rock ban, Venus Grrlrs! The band consists of Grace Kelly fronting the band, Hannah Barraclough on bass, Grace Stubbings with the synth and Gabby Cooke on the drums.
---
Congratulations on your new track Lidocaine! Can you tell us about the story behind the track?
Thank you!
Lidocaine, a local anaesthetic, is used as a numbing agent during bone marrow biopsies to check for bone marrow diseases and cancers such as Leukaemia. Now in remission, GK reflects on the lasting damage of cancer and begins to process the gritty and complex repercussions; including the small, seemingly insignificant factors that helped her along the way. 'Lidocaine' is a metaphor for this, as not only was it used as an attempt to numb my pain during a gruelling procedure, but it symbolises all attempts of this in a mental and spiritual manner, too. Getting through the day is a win in itself, even if it meant that she stayed in bed all day, that was the Lidocaine she needed to get her through it.
Due to GK's journey, we'd like to take this opportunity to encourage you to join the stem cell register. Some people who get diagnosed with Leukaemia need a stem cell transplant to prevent disease from returning, and you could be that person and save a life. It's quick and easy to sign up, visit www.anthonynolan.org for all of the details.
How are you feeling to be back performing next month? 
We are looking forward to being back on the road, playing and meeting people but we have to admit, we are also quite nervous as we haven't played live for over a year. We are excited to be playing London's Upgrade event by Nels Hylton on September 6th, followed by Generator Live in Newcastle on September 16th. Half of the band is now based in Newcastle so it's really exciting to be playing a 'home show,' where we can connect with family and friends.
What's the best part of being in a band?
All of the different members of the band would most likely say something slightly different. But I think it's amazing to have the opportunity to travel and play music for people. You meet so many interesting people when you travel, we love to talk to people at shows and we love hearing their tales. It gives you new perspectives and ideas of the world.
What's been your career highlight so far as Venus Grrrls?
We have had many amazing opportunities over the years, we were over the moon to have been booked for Kendal Calling and Truck Festival last year. With our live shows on hold, we can't believe the support that we have been given from airplay, we have had so much support from Nels Hylton, Jack Saunders, Alyx Holcombe other at Radio 1 and the teams over at BBC NE and Tees have supported us from the beginning. So it's going to be special to be playing London and Newcastle for our first shows back.
What advice would you give to women or gender expansive musicians trying to break into the industry?
Follow your intuition, collaborate, form and build your team around you. Make sure you love what you're doing.
What other exciting plans do you have for 2023?
We will shortly be announcing more new music which we have been creating over the last year, we think these are some of the best tracks we have done yet! And, as mentioned we have a stream of shows that have been announced for Autumn 2023 and there are a couple more to be announced. So keep an eye out on our socials @venusgrrrls.
Have a listen to the official NE Hot Seat Spotify playlist to discover new local artists: