NE REPRESENT: LISA MURPHY
For this month's NE Represent spotlight, we are so excited to welcome music producer and educator Lisa Murphy.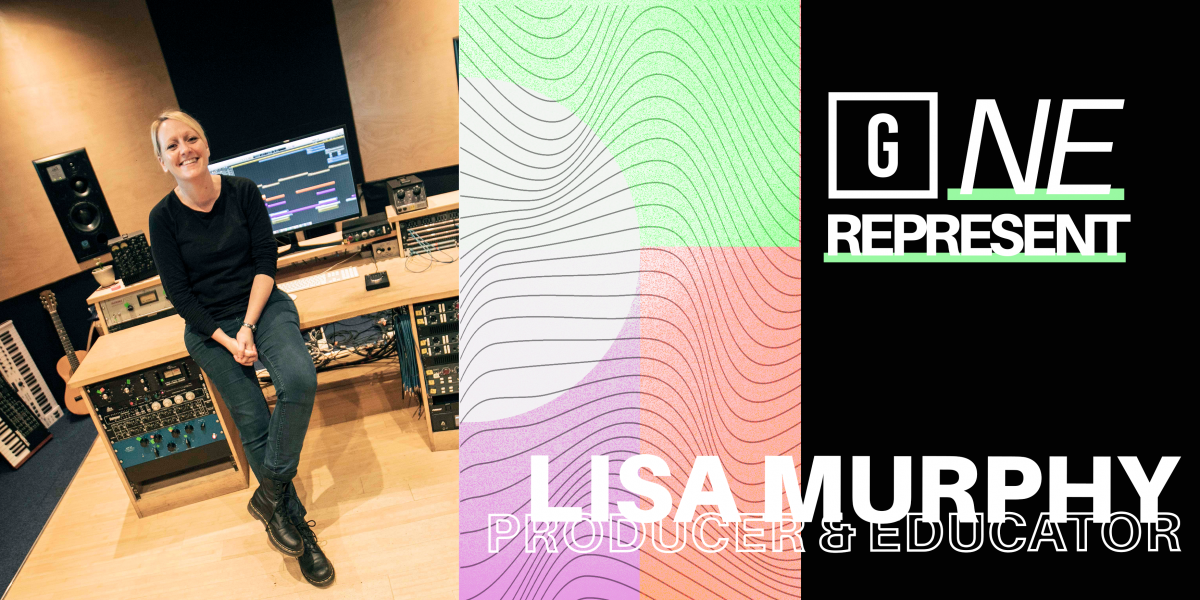 Welcome to our spotlight feature NE Represent – promoting the work of the women and gender minorities leading the North East's music industry.
For this month's spotlight, we are so excited to welcome music producer and educator Lisa Murphy. She has over 20 years working in the music industry as both a music producer and an educator. From managing at Blank Studios and creating Access Music Production to founding the Women is Music Production  project and delivering the Making Tracks project Lisa has a keen interest in supporting the next generation of music producers into the music industry.
Check out our interview with Lisa Murphy below!
---
How did you get to be involved in music/tell us about your journey into music?
I've been involved in music from a very young age, starting out first as a musician, and then learning about music technology when I was at college – I immediately knew that was going to be the thing that I really wanted to do as a career.
I did a degree in music technology followed by a PGCE and went into teaching alongside working with bands and artists to help them develop their music. (I also did a Masters, but that was years later and more about me wanting to geek out and learn more!)
I've always been fascinated with technology, I'm the kind of person who is really excited to go into a recording studio and find out what each piece of gear contributes to the creative process.
Fast forward a few years and I moved away from working in education to working full time in the music industry as a recording studio manager, engineer, mixer, producer and also still some freelance teaching of all things music production (as I'm really keen to support other people to develop skills and confidence in using music technology in their music making!)
Tell us about the work you do in the North East music scene?
Well, as like most freelance people, I seemed to have about 25 jobs – haha….
I'd described myself as a 'music producer', and to sort of dig into that title a little deeper (as I'm aware it could mean lots of different things to different people), my day-to-day work can involve anything from engineering the recording of a band in a recording studio environment, to mixing a track or EP/album, mastering music, to working with an artist to develop their sound taking a song idea into a fully produced piece of music (programming/playing instruments and developing song ideas using music tech). And, I genuinely really love my job – because I get to work every day with such incredibly talented people and get a really good insight into the grassroots level incredible talent in the northeast music scene.
Another one of my roles is that I am the studio manager at Blank Studios in Newcastle, working with a fantastic team of local music producers in what I consider to be the best studio in the northeast. I also own my own production studio space, called Production Room, which I use for smaller recording projects and for mixing/mastering work.
As a woman working in the technical side of the music industry, I am very aware that I am a minority. Recent studies have shown that as little as 2.6% of the music producers in the music industry are women.
A few years ago, myself and a couple of northeast music industry pals (Holly Rees and Laura Brewis) founded community interest company, Access Music Production (or AMP for short), with the sole purpose of supporting more people, particularly those who feel marginalised or are underrepresented in the music industry, to get involved in music production and using music technology in their own music making.
Our first project for AMP has been in partnership with Sage Gateshead and supported by funding with from Youth Music charity. This project, called Making Tracks, is a series of 10-week courses, delivered at different entry points for learning at your own pace (introductory, intermediate and advanced levels) and an accompanying programme of weekly guest workshops and masterclasses from northeast music industry professionals on everything from field recording and composition to mixing to promotion and distribution for emerging artists.
What advice would you give to a woman or gender minority who's looking to work in the music industry?
I think the phrase that I hear a lot is "find your tribe" and in lots of ways I guess this is the advice that I would give to women or gender minorities who are looking to work in the music industry. Look around you for allies, other people who are doing the same work that you would like to do – be it as a performer or working in music production – approached them and asked them about their route into the industry and for any opportunities to get involved. We live in the northeast, everyone's really on the whole dead friendly, and in my experience really want to help – especially if it's an experience that they have been through themselves, and where they see that their position now in the music industry could help others who want to get involved.
There are lots of opportunities with local music organisations such as Generator NE, Sage Gateshead, Tees Music Alliance, We Make Culture, Crew Gal and of course AMP – (and loads more that I've forgotten to mention here, sorry) – who run short courses and provide opportunities and funding for northeast musicians and aspiring music producers to get involved in real projects in the northeast music scene. Follow them and keep an eye on their socials.
What would you like to see change in the music industry around gender equity?
Let's be honest the statistics are really bad. In a report a couple of years back, 2.6% of producers are women, we've got festival line-ups with no female artists or bands in headliner slots, and the gender pay gap in the music sector is really bad… in 2023, it's unbelievable and has to change!
There are lots of ways that you can help with removing barriers, if you are an artist or band who hasn't yet worked with a non-male member of the music industry to record or produce your record – seek out female and gender minority music producers to work with, use your voice to support and share the work of women and gender minorities around you who are working in the music industry, always credit the people that you've worked with in creating your music to ensure that they can be found and included in future research about how many women and gender minorities are working in the music industry in these roles.
If you are a promotor looking to book more female artists and bands for your gigs, here's a playlist to help you.
I'd like to take this opportunity to shout out to all the allies working in the northeast music scene, who are not a gender minority, who always take the opportunity to support others in working in the industry and have been really positive to develop projects and opportunities to people to access getting involved in music production – I know that they would be more than happy to be approached for career advice or an opportunity to get involved in the work that they do. So don't be shy, drop other musicians and producers a DM!
What are your future plans for AMP? / What do you have coming up?
Another initiative that I haven't spoken about yet is the recent development of a network for women and gender minorities in the northeast who are interested in or are working with music technology. This network, called the North East Sound Women's Network, has been recently founded by myself, Becky Allen and Julie Bartley in order to try and build a supportive community for women and gender minorities in the North East and provide opportunities for learning and development together in all areas of music technology. The aim is for AMP to work closely with the NESWN too access funding and provide skills training and development opportunities for women and gender minorities in the northeast region.
For AMP, we have also recently recorded a podcast which features interviews with participants from our Making Tracks programme as well as professionals from the North East music scene, about their journey into music production or their work in the music industry – which is to be launched shortly in partnership with Sage Gateshead.
And, as ever, we are constantly hoping to grow our offer and are waiting the outcome of some funding bids to hopefully run some more projects to support women in music production. Fingers crossed for the outcome of those!
Give a shout out to a woman or gender minority doing mint work in the North East music community!
There are so many incredible initiatives in the northeast at the moment to support women and gender minorities. I'd love to give a shout out to Becky Allen and Julie Bartley for their tireless work in setting up the Northeast Sound Women Network, to my partners at AMP.
Holly Rees and Laura Brewis (who also runs the fantastic We Make Culture CIC in Sunderland, supporting young people to develop their music performance and music production skills).
Also, shout out to Frankie Jobling for her work with us on Making Tracks as part of the Sage Gateshead team, but also her work with NEWISM (Northeast Women in Soul Music).
And, big shout out to Susan French and her team for launching 'Crew Gal' – an initiative to get more women involved in the technical roles of music in the live sector such as live sound and stage crew. And Sarah Wilson working with Tracks in Darlington to deliver their Noisy Daughters project. And, of course, Helen Walkinshaw for her brilliant work at Generator to provide opportunities and lead projects for women and gender minorities in northeast music industry.