Felt Cute, Might Delete Later – The First Multi-Publication Digital Music Festival of its Kind
We've been staying in, staying safe and saving lives – and now we're taking it to the next level.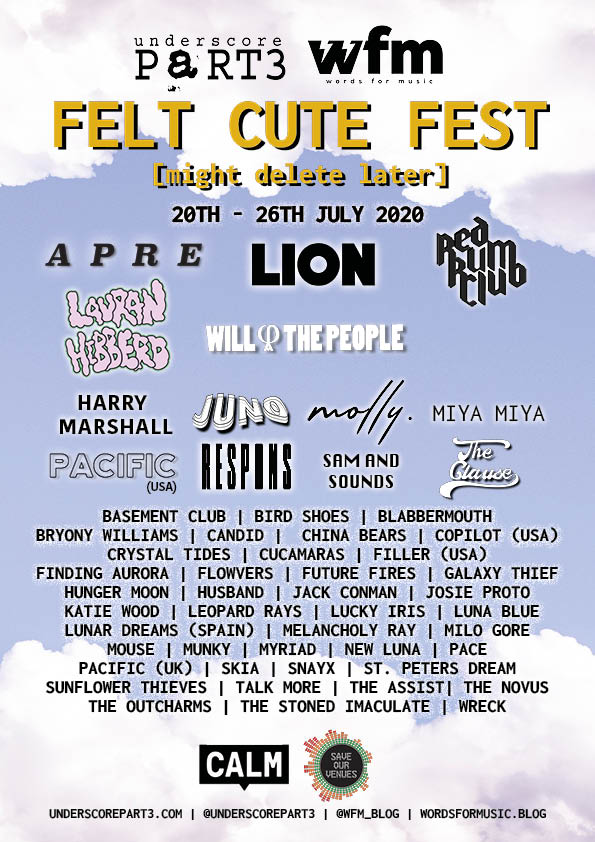 Welcome to Felt Cute, Might Delete Later the first multi-publication digital music festival of its kind.
Between the 20th-26th of July strap yourself to Underscore Part 3 & Words For Music Blog for 60 live music performances, interviews with acts and much more to be revealed. 
Monday-Thursday tune in to Underscore Part 3 and WFM Blog on Instagram Live for preview interviews with performers, before the main event- 20 bands per day live-streaming on both websites as 2 virtual stages.

Performances include: Will & The People, Lauran Hibberd, APRE, Red Rum Club, LION and more.

We care about mental health as much as we care about live music, and we wanted to give back to both. Throughout July, we're raising funds for CALM – Campaign Against Living Miserably and Save Our Venues Trust. Both areas have shone an important light on struggles we've seen more than ever in 2020, and we'd love to combine our passion to promote and support both causes.
Underscore Part 3 socials:

https://www.instagram.com/underscorepart3/
https://twitter.com/underscorepart3
https://www.facebook.com/underscorepart3/
WFM Socials:
https://www.instagram.com/wfm_blog/