TIPPER OF THE WEEK: CHRIS WILSON
This week we continue our brand new feature on The Tipping Point, spotlighting the biggest and best emerging acts from across the UK. Each Monday, we ask one of our esteemed tippers to select five of their hottest tips to be featured on the site throughout the week.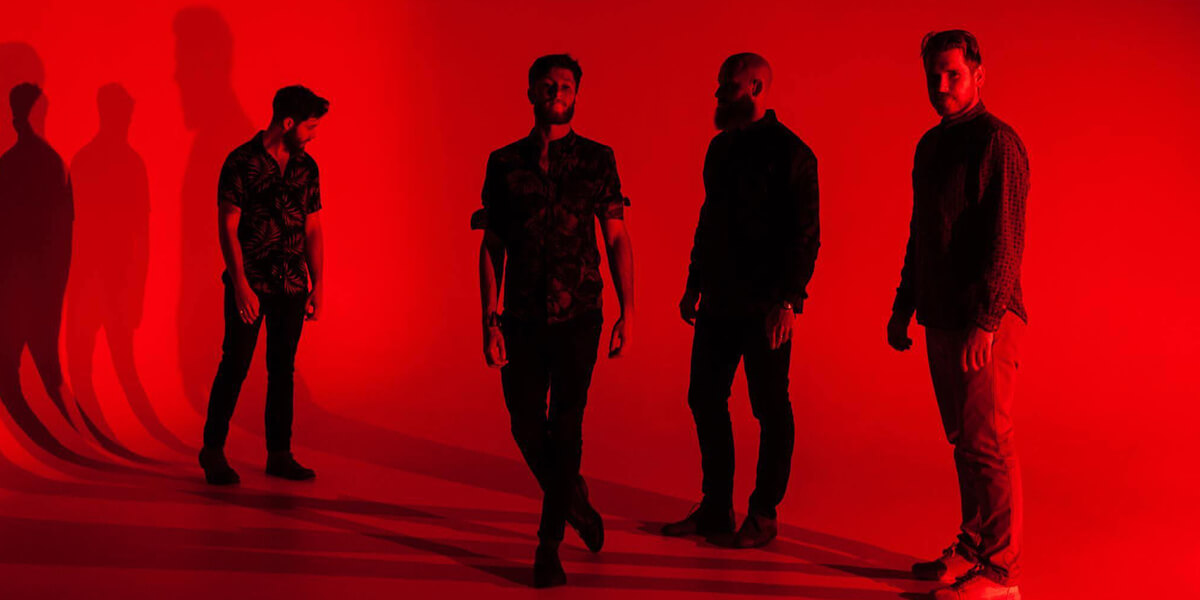 Next up we have Chris Wilson, founder of London gig promoters Disorder Music alongside his position at Fierce Panda and manager of rising UK talent Habitats and Softer Still. Check out all Chris' tips below.
---
GIANT PARTY
Giant Party are a soul-splashed indie four piece based in London Town. Their new single 'White Ink' was released last month with The Line Of Best Fit describing it as 'Mixing funk bass lines and falsetto vocals with heavy guitars and complex production the whole sound is somewhat akin to a really fucked up episode of Top Of The Pops' .
The new single follows their debut self-titled EP which was released in August 2017 and praised by the likes of Noisey, DIY Magazine, Elton John's Beats 1 Show, BBC Radio 1 and BBC 6 Music to name a few, while being compared to the eclectic sounds of LCD Soundsystem, Twin Shadow, Blood Orange, Spandau Ballet, Future Islands, Grizzly Bear, TV On The Radio and even Phil Collins.
Giant Party have perfected a sound which is living in the '80s but also alive to the thrilling pan-generic possibilities of the modern age. The live show is a smoothly genteel riot of fluorescent lights and fluid lithe grooves, embodied by a guitarist throwing around a Spandau Ballet fringe and a singer rolling around the stage amidst the shocking pinks and luminous lime greens. Far from any throwback tribute act however, Giant Party behave like an already-excellent alt rock band who have just discovered the silky delights of Top Of The Pops circa 1982. It's a live show that takes the audience on a journey, a journey where you never quite know what is around the next corner, it's an experience not to be missed!
---
485C
485C are five nonchalant indie rock shapeshifters lurking at the far Eastern end of the Central Line, part South Woodford, part Woodford Green. 'Kapow!' is their fourth single, and paves the way for the release of their debut album on Fierce Panda on 9th March.
As the title might suggest, 'Kapow!' goes for the pop jugular, it being a short sharp shock of winding guitars, louche vocals and dreamy harmonies, all wrapped up in 2 minutes and 49 seconds. But beware of any cartoonish insinuations – beyond the ragged demeanour and chirpy cheekbones in 485C there lurks the (he)art of a profound alt.pop poet. Not for nothing does the second verse of 'Kapow!' find Adam Hume (Jim Morrison auditioning for The Strokes, in a sense) crooning: "As the infidel's sectarian approach / Couldn't wash away the sins of your own hopes / Just as babies cry pensioners close their eyes  / It's not a choice to live when you have to survive ." Verily, these people are not David Guetta.
---
SOFTER STILL
Softer Still are an indie dream pop band from Shepperton, Surrey consisting of 4 wide-eyed sonic explorers. 'Wishing Well' is the opening track from their second EP 'Visions Of You' and what a beautifully dreamy melody driven EP it is too.  Musically it sounds like The Cure, Wild Nothing, DIIV and Beach House, while lyrically the EP touches on themes of jealousy between friends, obsessive love, complacency, regret and guilt – heavy stuff!  The closing track on the EP is entitled 'Junipero' and is inspired by an episode of Charlie Brooker's Black Mirror TV series of the same name (if you haven't seen it, it's well worth a watch).  Both their self titled debut and 'Visions Of You' have had much critical acclaim from the likes of NME, Clash, BBC Radio 1, BBC Radio 2 and BBC 6 Music, as well as catching the ear of American shoegazers DIIV, who invited the band to support them at London's Electric Ballroom, ones to watch for sure!
---
THE CARESS
The Caress are an alternative three piece combo based in New Cross, South East London, comprised of three brothers.  Formed in December 2015, their music is visceral and melodic, with a quintessentially British charm. Lyrically they try to find the beauty and intrigue in the mundane and grey, through stories of youth, sex, naivety and loneliness.  'Breakfast With Leather Apron' is taken from their debut EP 'You Say I Kiss Like A Girl'. It is an anxious and energised ending to both the EP and their live sets. Lyrically, it is a literate character study of a modern day chauvinist and playboy, with sly references to Sir Arthur Conan Doyle, Jack The Ripper and Doctor Faustus. Musically, the track is a dark, rumbling number, meandering throughout, with an explosive crescendo and nods to both pop and goth, like Echo & The Bunnymen and The Cure.
Catch them live at Birthdays, London this Saturday 10 Feb (tickets here)
---
EASY KILL
Easy Kill come from Manchester, England – they released their debut album 'Melanscholar'  on Fierce Panda last September. They have been half-jokingly labelled 'doom-pop', a term which highlights the duality underpinning their music, wherein quiet thoughtful lulls are followed by louder moments of uplift or down-spiral. Chaos then clarity, the excitement and fear of being alive. This angsty theme has been carefully honed in Easy Kill's previous releases, but it hits a whole new creative apogee with the 'Melanscholar' project, which sees Easy Kill running with the concept of life in the afterlife.  With its spectral, synthetic layers and perplexed vocals 'Melanscholar' is an unfathomably LOVELY record; modern and maudlin, like a woeful Foals blended with sad-faced post-Alt-J japery. But this is an album which is also aware of the ghosts of the past, infused at is with the spirit of Talk Talk while at one point in 'The Lake' they sound like an ethereal 10CC. They're not in love. So don't forget it.