A masterclass series exploring writing with a change of intention
The Unthanks will lead our first masterclass in this series, to discuss how they have successfully and independently diversified into television, theatre, multimedia projects, residential weekends, and interactive online events. Adrian McNally, Rachel Unthank and Becky Unthank will discuss creating community and engagement between artist and audience, new opportunities, and pitfalls in monetising your music-making, and explore how to successfully collaborate and write to brief for a diverse range of platforms, including the making of Mackenzie Crook's Worzel Gummidge (BBC).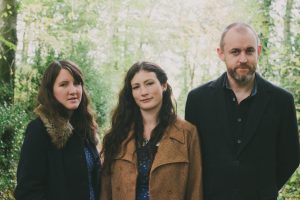 "The Unthanks are capable of such beauty that sometimes I can hardly bear to listen to them." Martin Freeman
"There are few times when you discover a band and they stalk immediately to the heart of everything you love and hold dear." Maxine Peake
Descriptions of The Unthanks range variously from "music that asks you to consider everything you know and un-think it", to "a take on tradition that flips so effortlessly between jazz, classical, ambient and post-rock, it makes any attempt to put a label on them a waste of time". Using the traditional music of the North East of England as a starting point, the influence of Miles Davis, Steve Reich, Sufjan Stevens, Robert Wyatt, Antony & The Johnsons, King Crimson and Tom Waits can be heard in the band's 14 records to date. Folk music can commonly and affectionately be defined as low culture, but The Unthanks aspire to prove that the beauty and truth present in the oral history of the people, is anything but common. Their approach to storytelling that makes easy bedfellows of tradition and adventure, direct social commentary and sophisticated harmony, heart-breaking empathy and glacial minimalism, earning them an army of admiring writers and performers including Mackenzie Crook, Maxine Peake, Nick Hornby, Martin Freeman, Elvis Costello, Robert Wyatt, Rosanne Cash, Dawn French, Adrian Edmondson, Stephen Mangan, Colin Firth and members of Portishead and Radiohead.
At the nucleus of a constantly evolving unit which can sometimes constitute a stage full and others be just the three of them, is the traditional upbringing of Tyneside sisters Rachel and Becky Unthank and the arrangements and writing of composer, pianist and producer, Yorkshireman Adrian McNally. Mount The Air, their last album proper, who BBC Folk Awards Album of the Year, while recent projects have included a commission to turn Emily Bronte's poems into song, a return to roots with an unaccompanied album and a symphonic adventure that began the Royal Liverpool Philharmonic Orchestra conducted by Charles Hazelwood and culminated with a performance at The Royal Albert Hall BBC Proms.
Along the way, The Unthanks have been particularly successful and pioneering in finding ways to diversify and adapt to the changing music industry. The band run seven residential singing weekends on the coast of Northumberland. They collaborated with Maxine Peake to make ground-breaking site-specific theatre, they have run their own festival, run their own record label, and while they have had plenty of music used in film and tv, they have recently broken into soundtrack writing for Mackenzie Crook's Worzel Gummidge, following use of their music in Detectorists. Most recently, they created The Unthanks Winter Onliner, featuring 23 hours of content across one weekend, on an interactive event platform. In addition to the usual exclusive performances and Q&As, it featured over two hours of content made by attendees in response to challenges set before the event, turning it into a unique community participation event that could represent a new income steam beyond the lockdown restrictions.
"They run from the very root of folk music to the very tip of the branch." Elvis Costello
"Few of their contemporaries, within both folk music and the wider artistic spectrum, have such a keenly-honed ability to locate in a song the emotional essence that can, in just a single phrase or vocal elision, cut one to the quick." The Independent
"The Unthanks have covered a lot of ground in the past decade and watching them evolve over this period has been truly inspiring." Phillip Selway (Radiohead)
"The honest and heartfelt way in which they deliver their music is a true inspiration to me." Martin Hayes
"It hits you in your soul rather than your head. I love them." Adrian Edmondson
"It's quite a rare thing now. They've really got everything you could want from music. And I'm very fussy." Robert Wyatt
"If there was such a thing still as having a favourite band like in the old days, I'd say they were my favourite band." Paul Morley
Generator is a PRS Foundation Talent Development Partner supported by PPL