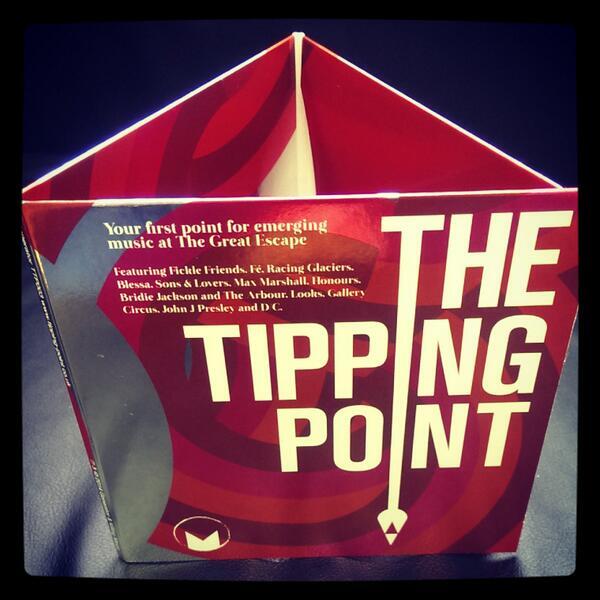 The Tipping Point and Killing Moon at
The Great Escape – Delegate CD
Generator's Tipping Point blog has joined forces with Killing Moon and Key Production for this year's must-have CD compilation, available exclusively to industry delegates and showcase attendees at The Great Escape.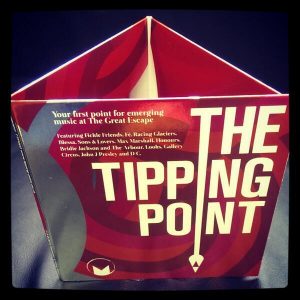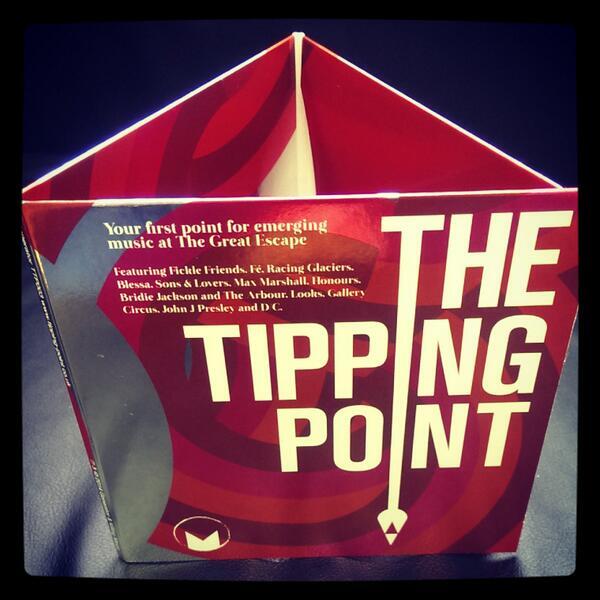 The sought-after CD contains tracks from The Tipping Point and Killing Moon artists playing The Great Escape:
Fickle Friends, Fé, Racing Glaciers, Blessa, Sons & Lovers, Max Marshall, Honours, Bridie Jackson and The Arbour, Looks, Gallery Circus, John J Presley and D/C
---
---
Fickle Friends
Both playful and upbeat, 2014 looks set to shine brightly on Brighton's Fickle Friends. Debut single 'SWIM' featured on the Killing Moon/Ally McCrae 'New Moons' compilation  and the band have featured been on BBC Radio 1, The Line of Best Fit, Pitchfork, District MTV and have even been bigged up by Jamie Oliver.
Friday, 9.15pm @ Green Door Store
Saturday, 4.15pm @ The Mesmerist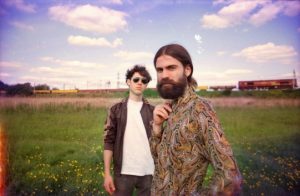 Fé
In both their inspired early releases 'Time', 'She Came' and '50/50' (all produced by Luke Smith – Foals/Depeche Mode), Fé have offered a flawless signal of intent, proclaiming their arrival with wonderful, heroic melodies, heartfelt sentiment and a euphoric sense of space. It's endearing contemporary pop perfection which has seen BBC Radio 1, BBC 6 Music and The Guardian all rushing to heap praise on the band.
Friday/Saturday, 1.30am @ Brighthelm
Saturday, 2.30pm @ Komedia
Saturday, 7.15pm @ The Mesmerist
Racing Glaciers
Combining post-rock influences with pop melodies Racing Glaciers driving live performances have captivated audiences at venues across the UK in support of Dan Croll and Kodaline, solidifying their place on the live circuit.
Saturday, 5.15pm @ The Mesmerist
Blessa
Blessa formed through a long standing friendship between Olivia (vocals) and Alex (guitar). Lyrically drawing references from the New York School poets such as Frank O'Hara and John Ashbery, and taking musical inspiration from the binaries of darkness/light and open/closed spaces, they set on forging a new Sheffield sound with the completed line up of Andy (drums), Rob (guitar) and Jake (bass).
Saturday, 3.30pm @ Komedia
Saturday, 9.30pm @ Komedia Studio Bar
Sons & Lovers
Released in March, 'Lover' followed tours with Walk The Moon, Kyla La Grange, Of Monsters & Men and Ellie Goulding. The band have also enjoyed festival slots at Reading & Leeds Festival and T in the Park.
Friday, 6pm @ The Mesmerist
Max Marshall
Since graduating from fashion school last summer, Baltimore-born, east London-based Max has returned to her first love – music. Magnificent debut mixtape, 'Forgive Me', is an accomplished introduction to Max's extraordinary voice and ear for addictive melodies.
Thursday, 8.45pm @ Komedia Studio Bar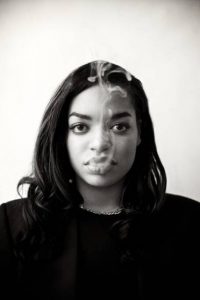 Honours
Having set the internet a-buzz with 'Ready to Run', which premiered through NME, follow-up 'August' adds an even higher level of maturity and songwriting prowess, resulting in an incredibly catchy, evocative track that you should expect to be hearing at festivals all summer.
Friday, 3pm @ The Mesmerist
Saturday, 2.30pm @ The Prince Albert
Bridie Jackson and The Arbour
Newcastle based four-piece Bridie Jackson and The Arbour are an eclectic group of folk-influenced musicians. Hauntingly ethereal, yet fused with dark and powerful undertones; this eccentric Radio 2-supported ensemble inject contradictions galore, with their union of bright melody and sombre lyricism.
Saturday, 12.30pm @ Komedia
Saturday, 8.30pm @ Festival Hub Stage
Looks
Looks' broad pool of influences brings together electro-clash vocals, smooth guitar licks, pop synths and world music rhythm. The trio posted initial recordings online in late 2013 and received glowing reviews from a number of respected blogs and tastemakers including Fake DIY and NME.
Friday, 12noon @ The Mesmerist
Saturday, 10.30pm @ Sticky Mike's Frog Bar
Gallery Circus
Survivors of the San Francisco mini 2012 earthquake, identical twin brothers, Daniel and Graeme Ross, have returned to Newcastle-upon-Tyne to release new single, 'Supercell'. Having spent the past couple of years chasing dollar, storms, and musical inspiration across America, the Geordies returned with their white hot screeching beats in tow. Support from Tom Robinson and Jen and Ally on Radio  soon followed.
Friday, 7pm @ Green Door Store
Saturday, 1.30pm @ Komedia
John J Presley
John J Presley and his band have just got into the studio to record the album. That's because the last year has been fraught with tours, live shows and a relocation. They went out with The Jim Jones Revue on their last UK tour and shared stages with Band of Skulls, and Joe Gideon and the Shark to name a few. Some say think Jack White meets Tom Waits, but do go and experience this in it's own right.
Friday, 1.30pm @ The Mesmerist
D/C
D/C is a classically trained musician from London, and is already getting love from Clash and Indie Shuffle whilst being compared with the likes of James Blake and King Krule. It's easy to see why, too. 'Devil On My Shoulder' takes elements of footwork, dubstep and house, fusing them together for an emotional, downtempo sonic treat.
Thursday, 8pm @ Komedia Studio Bar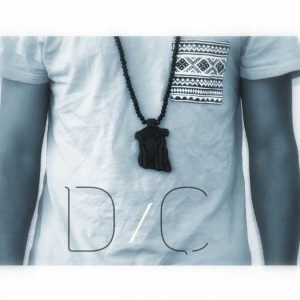 ---
About the Compilation
The Tipping Point unearths the best new music via a unique Tippers Network of reliable tastemakers across the UK. Tips are featured five days a week, with thousands of music industry figures receiving fortnightly email roundups.
Killing Moon started life as a new music blog in 2011 and has rapidly expanded into one of the UK's leading tastemaker blogs, labels, management companies and live promoters. In 2012 Killing Moon completed a deal with Turn First Artists/Universal Music Group to serve as its artist development platform.
Key Production are a well known music manufacturer established in 1990. They specialise in all types of music packaging, which includes CDs, DVDs, Vinyl Records, all associated printed parts, special packaging, band merchandise, as well as digital downloads and just about anything else in between you could imagine through sister company Think Tank Media!
About the compilation, Ach Dhillon from Killing Moon says,
"Since meeting Joe Frankland at Generator a long, long time ago in a 'toon far, far away, I've come to know Generator as the purveyors of all musical-things good and new in North England and greatly admire their ethos of educating and generally supporting new talent from that area as much as they can. Self-enablement and learning about the various facets within the music industry is at the core of what Killing Moon does, so as you can imagine we get on pretty well! I'm delighted Killing Moon, Generator and Key Production have buddied up on this compilation for Great Escape with the aim of showcasing what we see as some of the best new artists around, and look forward to doing similar projects with these guys in the future."
Joe Frankland from Generator says,
"We're very fortunate at Generator to have dedicated members of our Tippers Network – those with their ears to the ground and a thirst for music discovery. Sharing our ethos for championing new music and developing artists to their full potential, Ach and the guys at Killing Moon are among our most reliable Tippers so it's a pleasure to work together on such a strong CD compilation. Thanks to Key Production, every single conference delegate will be given an exclusive 12-track compilation, allow industry guests to check out the cream of the crop at The Great Escape."
Tracey Hunt, Key Production Marketing Manager says,
"Key Production has always championed independent artists and labels. To Key, The Tipping Point is part of that process, creating that magic moment when new music comes alive! Key is proud to be part of this and helping to co-design and manufacture this year's CD, which we think compliments and brilliantly illuminates the new talent The Tipping Point showcases.
---